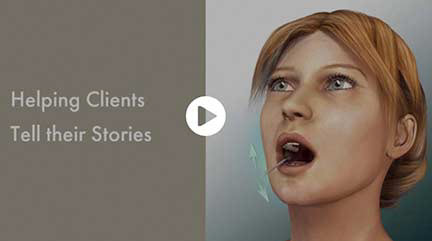 How will you tell your story?
"Telling the right story in the 'right way' is key."
Different audiences and different markets all require different approaches to visual storytelling. Understanding clients' communication goals and the needs of their target audience (and/or limitations) is key to creating successful illustrated "medical stories". 
Quality medical illustrations showcase products and explain a client's concepts in an engaging, educational, easy to understand, and memorable way. Doctors don't talk to each other the same way they talk to patients and neither should your illustrations. Wayne's custom visual solutions are tailor-made to resonate with, and to be clearly comprehended by your audience; maximizing your message delivery and impact.
"First step is listening."
Good medical illustration is more then just a flashy picture. The first step is always listening to our clients and understanding what each visual "needs to do" and "whom" it is being designed to reach.  Once identified, a cohesive strategy that includes visual style, presentation, format, and budget is crafted to help clients successfully tell their visual stories.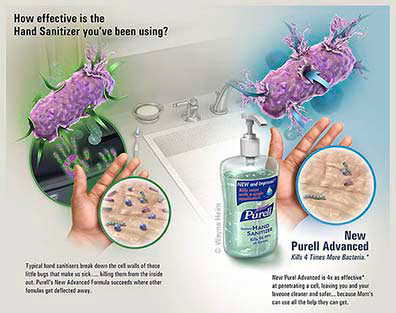 "Meticulously Produced Illustrations"
Illustrations are meticulously produced utilizing a wide range of styles; giving you, the client, the highest level of flexibility.  When it comes to creating that right look for the story being told, the detail, color, style, and look of the images can be just as important as the medical information being presented.  From graphic design to traditional illustration techniques (including pencil, watercolor, and airbrush); from digital techniques including vector line art to high-end 3D illustrations and custom 3D model building and sculpting, Wayne creates high quality, 
creative solutions to suit all types of projects and budgets.
Custom Solutions
Be it: editorial, surgical, or
product illustration
, marketing and brand identity visuals, logo design, story boarding, custom 3D modeling, or animation, Wayne has the background and expertise to bring stunning solutions to your project on time and on budget. 
Not sure what illustration style is right for you? 
A trip to the "
portfolio
" section might just provide some creative inspiration. In the different portfolios you will find a wide selection of samples that showcase just some of the many medical illustration solutions that have helped clients successfully tell their story. Don't see exactly what you are looking for? Give Wayne a call and he'll be happy to help and explore options that fit your needs.
Looking for "Stock Medical Illustration"? ...
or see something on the site that already fits your needs? 
See something you like or looking for something specific? Call today to see which medical visuals are available for commercial license "as is" or ask about customization. Or inquire about how a similar image can be custom created from scratch to exactly fit your needs. With years of experience working in the field of orthopedics, be sure to ask about our vast library of spine and 
orthopedic illustration
. 
Are You Getting Noticed?
The medical field is crowded with visuals. Visual imagery all fighting for the attention of your audience. Hiring the right artist, a medical illustrator, with the experience and expertise is key to getting your message across to your audience. 
Wayne Heim Medical Illustration
Stand out from the crowd. Whether big or small, complex or simple, every client and every project receives the same full creative insight, experience, and attention.  See just how captivating, one-of-a-kind medical visuals can help you successfully tell your story.  
________________________